Adventures in Etsy
I have had an on-again, off-again relationship with Etsy.com for the past eight years. The offs have been totally my choice, Etsy didn't cheat on me or anything.
Recently, I stuck my toe back in the water and put two items in my old Etsy "Shop." One item sold this week, a three-tiered mid-century appetizer plate.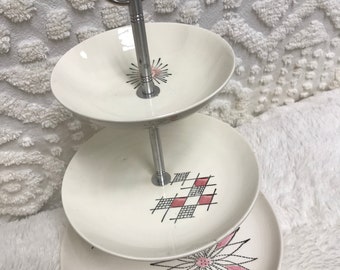 This sale did give me that old happy feeling of finding something, putting it up for sale and then seeing a deposit in my bank account. Not that I will ever get rich selling on Etsy, but I have always loved the thrill of "treasure hunting" - and as I don't like a lot of clutter in my house, it is a perfect fit for me to pass on my finds to people who will enjoy them.
This recent sale also reminded me I have been asked in the past how I like selling on Etsy and what my experience has been. So here goes...
If you do like to hunt down old stuff you think someone else might enjoy and want to purchase from you, there are really only two ways to unload your treasures. Either in person, or on-line.
To sell your wares in person usually means setting up at an antique-flea market. This can be a pleasant way to spend an afternoon. I would do this about once a year to clear out the things I hadn't sold on-line - and great people watching!
Or you can rent a stall (usually rented per square foot) at an antique market, so you have your own little personal shop space. The one I rented was in a co-op; renters would rotate manning the store and sales counter.
While I do like the personal experience of these two ways of selling, the truth is, your customers are limited to the people who are walking through the flea market or shop. And compared to on-line, this is a tiny fraction of your potential customers.
The primary on-line ways of selling are ebay or Etsy.
I did start off for a short while selling on ebay. There is a lot of on-line traffic - also a lot of competition - and I always seemed to rack up weird fees that ended up eating most of my profit.
Etsy is only for selling vintage items (must be at least 20-years old), hand-made items and arts/craft supplies.
I started selling on Etsy in 2010. What I immediately liked about the site was...
1) There was a limit to what could be sold on the site, so your stuff didn't get quite as lost as it could on ebay.
2) You got your own "shop" to set up and keep your items for sale in the same place. You download a banner of your own choosing and the wording is all created by you too. And very user friendly. For an example this is my shop
Etsy Shop
. Although I haven't been very active for awhile, browse other shops too, some merchants are really clever with their designs.
3) The fees are straight forward, reasonable and there are no hidden fees that pop up. Your "shop" is free to set up and then it is only .20 cents to list an item. If you sell something, Etsy gets 3%.
The first item I sold in 2010 was this vintage dress pattern.
What I loved about this sale was the easy shipping.
Truthfully, the shipping (figuring out the cost and then literally packing the stuff up) is my least favorite part of the process...but that's not Etsy's fault.
They, in fact, have a very good program to help you figure out your shipping costs.
To research what I was going to say here about my Etsy experience, I went to my on-line shop and looked back at all 719 sales I made - another plus for Etsy, they have a very user friendly site to help you look back on your sales and statistics.
Looking back reminded me I sold a lot of cake plates.
I may have made Mark almost drive off the road when I spotted this one at a road-side yard sale and screamed at him to stop the car immediately so I could jump out and buy it.
I sold some fun 70's kitschy things too. Like this funky green piggy bank.
Some Mod cookware.
Weird stuffed animals.
Yes, someone bought this. Yes, I did buy it in the first place.
Fancy bookends.
And even some of my own re-purposed jewelry.
I sold owls in every shape and form imaginable.
And even a few leprechauns.
To get an full idea of what sells on the site, you can go to
My Etsy Shop
and click on "Sales." You can do this with any shop on the site, although some shop owners don't make their past sales visible.
Its a great site to buy from too. Especially the handmade items.
Nothing like buying directly from the artisan.
So if you have an interest in selling on-line, and what you want to sell falls into the categories of vintage, art/craft supplies and handmade...I say go for it with Etsy. My experience has been positive.
And to try it out, you have nothing to loose but a little time and .20 cents.